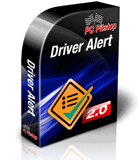 Automatically download and install drivers using
Driver Alert's newest feature — DriverMatic.
Drivers are the basic software that allow other applications to talk with your hardware devices. Just like other software applications, many drivers are frequently updated to eliminate bugs and add new features.
With DriverMatic we have standardized the packaging of the drivers, so that a new driver can be installed with the click of a button. No more reading README.TXT or installation instructions. Just click on the button, we take care of the rest. Now that drivers have been standardized, you can also automatically keep your drivers up to date in the background.
In order to get the most from your PC, it is good practice to keep your drivers up-to-date. But few people do, because your system has so many drivers, and there are so many updates. Driver Alert makes it easy, by matching the latest drivers to your system. Our Driver Alert Notification Service will keep you abreast of the driver status of your PCs through the comfort of your inbox.
Run a Free Driver Alert Scan Today
573 total views, 1 views today
(Visited 1 times, 1 visits today)