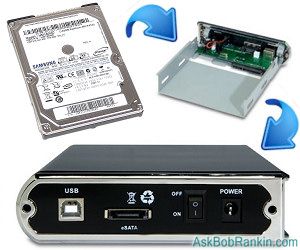 It is easy and inexpensive to convert an internal hard drive to an external one. All you need is a hard drive enclosure that fits your existing internal hard drive. Hard drive enclosures are widely available at computer stores and online. Prices range from as little as five dollars for a basic one-drive USB 2.0 enclosure to over a hundred dollars for enclosures that hold multiple internal drives in RAID arrays with eSATA interfaces. You probably don't need to spend more than $20 for a basic one-drive enclosure.
Removing a hard drive from a laptop or desktop is easy. Power down and unplug the computer. On most laptops, you'll remove a plastic panel from the underside of the laptop with one or two small screws. Remove the drive by gently tugging it free from the connectors, and you're done. On a desktop, open the system case, and locate the hard drive in its metal bay. Disconnect the power and data cables, remove the screws holding the drive in the bay, and slide it out. Just remember, you're removing the hard drive, but NOT opening it up. Doing so will damage the sensitive internal components.
You do need to make sure you buy the right kind of drive enclosure kit, so it will be compatible with the drive you've removed from the desktop or laptop.
The first consideration is the size of your hard drive. Laptop drives are all 2.5 inches, while desktop drives are usually 3.5 inches. Determine the size of your internal hard drive and shop for a hard drive enclosure into which it fits. Note that 3.5 inch drives generally require an external power supply, while 2.5 inch drives can pull their power from the computer to which they connect.
The drive interface is another critical factor. Old hard drives may use an IDE interface. Many new drives use the speedier SATA interface. Make sure the enclosure you select supports your internal hard drive's interface. If you have any confusion about the size or interface for your drive, just Google the name. For example, I have an old hard drive that I pulled from a defunct desktop computer. The markings on the drive say "WD Caviar 36400" so a quick search for that phrase tells me it's a 6.4GB Western Digital, 3.5 inch, IDE drive.
This excerpt is shared with permission from Bob Rankin.
BOB'S WORLD
Internet Tourbus -> Free Newsletter
Ask Bob Rankin -> Tech Support
2,440 total views, 1 views today
(Visited 1 times, 1 visits today)