By Jennifer Gaines for Techlicious
Confession: I think checkpoint-friendly laptop bags are the anti-fashion. Because of this, I've chosen to forgo function and maintain style, but many of my more practical traveling companions would happily ditch fashion for the chance to move through the security line a bit faster.
I talked to those practical travelers to ask them their opinions of checkpoint-friendly laptop bags, a.k.a. TSA-approved, and the response was overall very good. The frequent flyers who use these bags often say they typically get through the line without hang-ups. The most common complaints: cost and style.
This takes us back to my function vs. fashion dilemma; I searched high and low for TSA-approved laptop bags that aren't ugly, and the selection of ladies' bags is quite dismal, I must admit. But here are a few that made the cut for style and function:
Mobile Edge ScanFast Element
The Mobile Edge ScanFast Element is one of the most high-tech bags out there. It not only includes a section just for your laptop, making it TSA-compliant, but it also has a wireless security shield to keep your devices safe.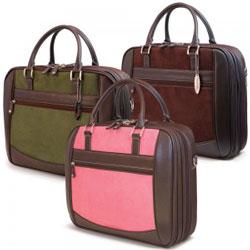 Price: $68.10
This post is excerpted with permission from Techlicious.
PC Pitstop is proud to welcome our friends at Techlicious as guest contributors. Founded by consumer tech guru, Suzanne Kantra, Techlicious is your daily scoop on everything from the best new mobile phones and apps to holiday shopping guides to step-by-step instructions for protecting your privacy on the Internet.
802 total views, 2 views today
(Visited 1 times, 1 visits today)