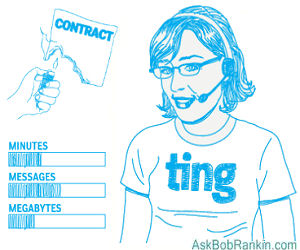 By Bob Rankin
Ting! Save Money on Mobile
What is Ting?
Cellular customers are like Goldilocks, who wanted everything to be just right. They pay a set amount for a bucket of minutes, text messages, and data bytes. At the end of each month, they are unhappy if they don't use all they paid for, or they have to pay extra for going over their allotments. Ting feels your pain, and has a solution that can save you money on your mobile phone bill…
Tucows has started a mobile services carrier called Ting, which is provided over Sprint's cellular network. Ting is one of the most flexible deals available. You can roll your own service plan, choosing different amounts of monthly voice minutes, text messages, and data megabytes from six tiers (XS, S, M, L, XL, and XXL).
Kinda makes you wonder why they don't also sell t-shirts. But anyway… you can even choose "zero" if you don't want to use your device for one type of service. Each device added to your account costs a base price of $6/month, so you can customize a family plan or a multiple-device service plan.
It might seem complicated, but Ting provides a short video that shows how simple this roll-your-own service plan is. There's even a calculator where you can plug in up to a year of your current usage and costs to see how much you would save with Ting.
This excerpt is shared with permission from Bob Rankin.
388 total views, 3 views today
(Visited 1 times, 1 visits today)