by Dave Hartsock for Daves Computer Tips
This is the third of a three part series.
OK . . . now your chosen purchase site has passed the SSL test (Part 1) and trust concerns (Part 2). But there's one last final check (Malware presence) and one final thing you can do to protect your credit card account number and identity. We'll discuss those two things here and then wrap it all up with a summary.
These articles are lengthy, but a lot of it is explanations. The distillation of the due diligence needed, the actual work you need to do for a comfort level about using a site, is maybe a half hour, probably a little less. That's not bad when you consider the days, weeks, maybe even months of time and headaches you'll be saving yourself if you don't do the necessary due diligence and have to straighten out a mess. And when weighed against the potential for trouble, adequate due diligence comes out much lighter: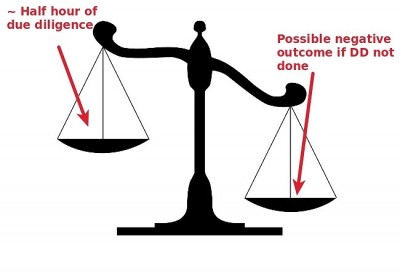 < A caution here that I've mentioned in another part: DON'T create a monster and then have to feed it. What I mean is that you needn't make this a BIG project. If the effort starts consuming more than a half hour, you probably ought to drop that site and move on to the next. You're not trying to scrutinize this site for inclusion into the "Ten Most Squeaky Clean Sites" list . . . just do enough so you reach that "comfort level" where you're confident that using this site is not going to compromise your credit card account number. So let's do the malware/malicious code checks. There are a gazillion FREE tools for this, so I'm just going to give you two that scan several checkers at a time . . . enough to be reasonably sure there is not any hidden malware/malicious code on the site. Any more than that and this will turn into that "monster project" I spoke of above. ("Geeezzz, now lemme try this one, and this one, and this one . . .") Article continued here
This excerpt is shared with permission from davescomputertips.com.
497 total views, 2 views today
(Visited 1 times, 1 visits today)