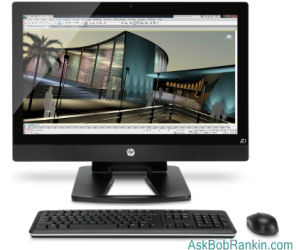 By Bob Rankin
Should You Buy an All-In-One Desktop PC?
All-in-one (AIO) desktop computers are hot. Compared to a traditional desktop tower PC, they are a thing of beauty. From 2009 to 2010, shipments increased 45-50 per cent in each of those two years, offering a glimmer of hope to a PC industry stricken by the recession. But shipments of all-in-ones grew by "only" 31 per cent in 2011, and are expected to grow by about 20 per cent in 2012. About 15.6 million AIOs will ship in 2012, predicts Digitimes Research, accounting for 10.5 per cent of PC shipments.
Intel is pushing AIOs in the hope of injecting some excitement into the flagging PC market. According to the chipmaker's marketing spin, the latest Intel chips are (surprise!) ideal for AIOs: smaller, more energy efficient, and more powerful. So of course, now is the time to buy an AIO with an Intel i7 chip inside, according to Intel. Also, Intel's new mini-ITX motherboard specification is only half as tall as previous models, enabling thinner AIOs.
Apple's iMac was the top-selling AIO in 2011, followed by Lenovo and HP. Digitimes notes that the iMac is not evolving (it still lacks a Blu Ray drive and HDMI in-port) while Windows/Intel all-on-ones are proliferating. Lenovo may well overtake the iMac in AIO sales this year, if only on the strength of sales to China.
A slew of AIO computers were introduced at this year's CES show. Retail prices range from as low as $379 to a high of about $2000 for the biggest, baddest iMac. In between are many price points and feature combinations to suit every budget.
This excerpt is shared with permission from Bob Rankin.
435 total views, 1 views today
(Visited 1 times, 1 visits today)