by Pat McMullen in Daves Computer Tips
So you want to get on Facebook, now what?
Social networking has a lot of risks–we've been through this—but if you take some care to know what you're getting yourself into you can avoid many of the pitfalls associated with sharing your self/work/life/etc. online. Maybe you're about to setup your first Facebook account. Maybe you already have one, and are starting to get a little privacy-conscious. Maybe you're just trying to update your privacy settings after neglecting them for a while. To give you the full rundown on Facebook's current account settings, I created a new profile from scratch and took plenty of screenshots along the way. I went through every menu and every option to setup (almost) the tightest locked account possible, and I'll show you how to do it too.
As you are well aware, the first step in creating any account is almost always giving your email address, and that's what you're going to have to do at Facebook. (If you already have a Facebook account, bear with me for a just a minute.) The main point here is that if you want to use Facebook to connect to friends, but not to dangerous strangers, you're going to want to search for friends by their email addresses. So if you have a current contact book on one of your email accounts, you should link it up now to find your friends. Because once you set up a Facebook profile with strict privacy settings, it may be difficult for others to find you.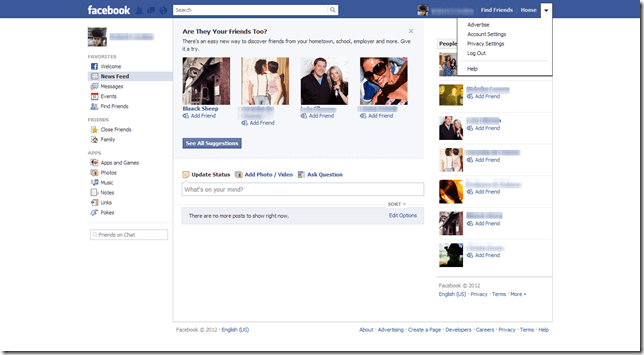 After you've entered all of the information about who, where, when, what, and why you are, you'll probably see lots of suggested friends that maybe work where you work, or went to school where you went to school. Current Facebook users recognize this as their news feed. The arrow in the top-right corner produces a drop-down box with your settings. I'll take you through the privacy settings step by step with a screenshot for everything. As before, if you have any questions about anything, or comments about what I'm doing, feel free to leave them in the comments below, on our Facebook or twitter, or send me an email at pat.mcmullen@davescomputertips.com.
Article Continued Here–Facebook Privacy Settings as of Spring 2012
This excerpt is shared with permission from davescomputertips.com.
1,099 total views, 1 views today
(Visited 1 times, 1 visits today)