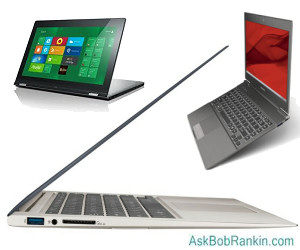 Are Ultrabooks a Smart Buy?
By Bob Rankin
Who would have thought that Apple would inspire competition? But that's definitely the case in the ultra-portable notebook computer market. Thanks to the success of Apple's MacBook Air, we now have dozens of Intel-based Ultrabooks from many manufacturers. But how do they compete on price and features? Here's the scoop…
Is the Ultrabook Ready for Prime Time?
Competition is always a good thing when it comes to technology. Without it, I'm positive that today's computers would be slower, more cumbersome and less functional. The evolving lineup of Ultrabooks is a case in point. They're thinner, lighter, and less power-hungry than the previous generation of laptop or notebook computers. The result is a cornucopia of choices for consumers, but not much (yet) in the way of lower prices.
In order to qualify as an Ultrabook, a laptop must be less than 21 mm (0.8 inches) thick, have 5 to 8 hour battery life, and fast resume from hibernation, on the order of 2-7 seconds. Oh, and an Intel CPU, of course. So how do the currently available Ultrabooks compare to the MacBook Air? Let's take a look at screen resolution, total weight, connectivity and configuration options.
If you want a display that's better than the Macbook Air's, you can get it in an Ultrabook. The Air's resolutions are 1366 x 768 for the 11-inch model and 1440 x 900 for the 13-incher. The 13-inch ASUS Zenbook Prime UX31A ($1100) and 11.6-inch UX21a ($900) have a 1920 x 1080. Acer's Aspire 7 Ultrabooks will feature 1920 x 1080 resolutions and capacitive touch input, something you won't find on a Macbook Air.
Excerpt shared with permission from Bob Rankin.
314 total views, 1 views today
(Visited 1 times, 1 visits today)